Anguo Wu
Anguo Wu
Age
28
Height
183cm
Weight
85g
Blood Type
O
D.O.B.
15th January 1959
Appears in
Shenmue II
Anguo Wu is a member of the Yellow Heads gang that mostly operates in Kowloon, however, their influence does spread beyond the walled city and Anguo is actually first seen in Wan Chai. After being lured to Man Mo Park in the Wise Men's Quarter, Ryo is attacked by various members of the Yellow Heads including Anguo. He, alongside Guanguan Yuan, Zifang An, and Lu Zhang trick Ryo into coming to the park alone so that they can beat information out of him relating to Yuanda Zhu. Depending on how well the player fights, Anguo will be beaten by Ryo or, in the event that Ryo finds himself beaten, Xiuying Hong will come to Ryo's aid and beat them herself.
Anguo appears again later on after being involved in the abduction of Shuqin Zhang, he along with a large group of the Yellow Heads, lead by Yuan, head through the White Dynasty Quarter with Shuqin. However, they are followed by Ryo and Xiuying, Anguo, alongside Xi Yuan, Guangzhu Yuan, Bingwei Wu, and Kai Lu attempt to attack Ryo as a group, but are beaten by him.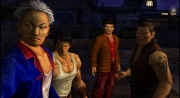 Last edited by
LanDi Sama
on 29 June 2014 at 10:38
This page has been accessed 223 times.