Mad Angels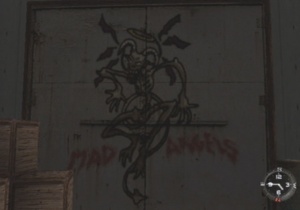 The Mad Angels are a notorious gang that operates in the
New Yokosuka Harbour District
. They are quite feared in the area and the workers at the harbour prefer not speak about them incase it gets them into trouble with the gang,
Goro
often warns
Ryo
to not speak the gang's name loud incase they are overheard. They often cause problems for the workers at the harbour, especially the newcomers, by interfering with their work and extorting money from them.
Guizhang
also comments that he and his father always have problems with the gang interfering with their business, although he doesn't specify anything in particular.
The gang itself is quite large as most of the harbour are aware of its existence. The leader is a man named Terry, who sometimes refers to himself as "Terry of Yokosuka". It soon becomes apparent that the gang had some hand in guiding LanDi to Japan and arranging his subsequent exit to Hong Kong. Terry also aims to have control over all black market trading from Yokosuka to Hong Kong.
When Ryo leaves for Hong Kong that is the last we hear of the gang, whilst the gang took a beating from Ryo and Guizhang it's presumed that they would still resume their activities at some point.
[edit]
Mad Angels Members
Related Threads
DO YOU KNOW ANYTHING ABOUT THE MAD ANGELS?
- last post by
@ Jul 27, 2006
Last
edited
by
LanDi Sama
on 8 October 2016 at 04:28
This page has been accessed 2,125 times.