Yingshuihe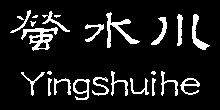 The Yingshuihe (蛍水川, jp. keisuisen) is a long river that runs alongside Langhuishan in Guilin and leads up into the mountains and forests that lead to Bailu Village. There is very little in way of civilisation to be seen once Ryo has left Langhuishan and the walk to Bailu Village can take two to three days.
[edit]
Residents and Workers
Last
edited
by
LanDi Sama
on 27 May 2012 at 05:33
This page has been accessed 634 times.